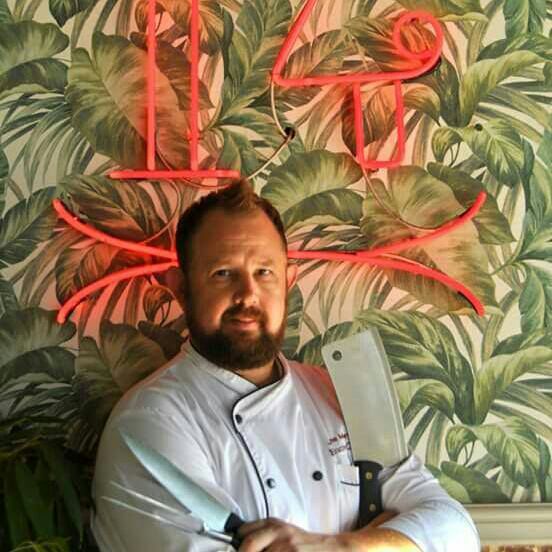 THE CHEF
Jeane Morkel – Executive Chef at 14 On Chartwell
 Fill us in on your background:
I'm a Pietermaritzburg lad – born and schooled. I then studied Hotel Management at Varsity College, followed by a Culinary Qualification from Fern Hill Hotel School in Howick.
I have been in the hospitality industry for 18 years now and worked at a hotel/golfing estate/spa on the KwaZulu South Coast before taking the reins at 14 On Chartwell.
 Cooking memories…
My Mom was – and still is – my cooking mentor. I always helped her in the kitchen, and to this day still love her cooking. There will always be nothing better than a home-cooked meal. I guess I inherited my love of cooking from her.
My defining moment, when I knew I belonged in the kitchen, came after I had completed my studies in International Hotel Management and had enrolled at hotel school. We were placed in the various departments of the hotel – and the kitchen was my first port of call. After a month I knew that this was where I wanted to be and refused to leave!  Even incidents like having to scrub a brass extractor hood with a pot scourer, half a lemon and a bag of salt didn't put me off. Eighteen years later I am still in the kitchen and don't want to be anywhere else.
 All about 14 On Chartwell
I think being a bespoke restaurant with a focus on Craft Beers and fresh seasonal ingredients in our food is what makes 14 On Chartwell unique and different to other restaurants. I have really enjoyed being a part of a unique family of restaurateurs.
Thoughts On…
Food!
My signature dish must be the Lamb Shank Pie we serve at the restaurant. It's unique in its own way and very popular.

When creating a new menu or dish I like to keep it fresh, simple but interesting.

No-one likes complicated! If I'm eating somewhere else I will never make any chef feel worthless or show my dissatisfaction. After all, I am a chef and know how sensitive chefs can be when it comes to criticism about their food.

My favourite food is Mom's pork chops and mash. Whenever I visit she always makes it for me. Being Afrikaans, a good "Braaivleis" with "pap and sous and braaibroodjies". And definitely pizza – it's a Sunday night tradition at home.

The most memorable meal I have ever eaten was during a foodie trip to Cape Town. We had lunch at the Chef's Warehouse (Chef Liam Tomlin's restaurant in Bree Street). We were served the tasting menu and the play on flavours was just remarkable.

The strangest food request I ever received was Fillet Steak and Boiled Cabbage – only – for dinner. An unusual breakfast order was a Ham Stir-fry.
Random Thoughts
Visiting Greece and Italy is on my Bucket List – to experience their hospitality and cuisine.
I cannot do without my Wusthof Chef's knife in the kitchen. And a dishcloth – for taking hot plates out of the oven.
I always keep Prosciutto and good Parmesan cheese in the fridge so if friends pop by to visit I can whip up a cheese board with cured meats, cheese and olives to accompany a bottle or two of really good wine which I have in my fairly large wine collection.
An early morning run on the promenade with my dogs and partner, working out in the gym and the occasional game of golf when I'm not in the kitchen adds balance to my life.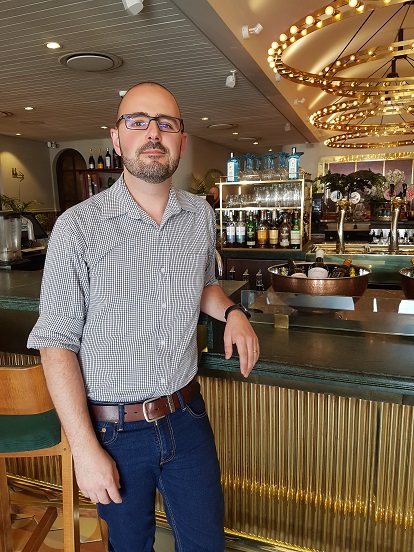 THE MANAGER
Brian Schoerie – General Manager at 14 On Chartwell
Fill us in on your background:
I grew up in Johannesburg and attended Jeppe Boys High School. I have been in the hospitality industry for the past 17 years. Meeting the ever-changing challenges of day-to-day operations and interacting with the most unbelievable people is what I enjoy most about being in hospitality.
 A Day in the Life of a Restaurant Manager…
I have 40 staff members and four managers reporting to me. Most of the daily routine includes prepping and planning for the day and week ahead. Communicating with the staff and paying attention to every detail is extremely important to keep things going smoothly. A great positive attitude and respect for each other is what makes a successful restaurant team.
 All about 14 On Chartwell
I think 14 On Chartwell is special as it is a blend of bespoke restaurant and upmarket bar which provides a comfortable and exciting environment for our customers.
 Random Thoughts…
My favourite dish at 14 On Chartwell is Chef's Lamb Shank Pie.

My globetrotting includes trips to Hong Kong and the United Kingdom.

I still want to visit Argentina and Greece.
Time off is spent with my family on the beach and working out in the gym.
CONTACT US
Tel: 031 561 1017
Email: fourteen@14onchartwell.com
Address: 14 Chartwell Drive, Umhlanga